mytest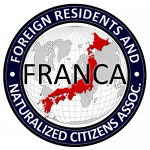 UPDATES ON TWITTER: arudoudebito
DEBITO.ORG PODCASTS on iTunes, subscribe free
DEBITO.ORG NEWSLETTER OCTOBER 9, 2010
Table of Contents:
///////////////////////////////////////////////
STEPS FORWARD AND BACK
1) Paul Toland on US House of Representatives vote against child abductions to Japan 416-1
2) Globe and Mail (Canada): "A black sun rises in a declining Japan"
3) Police notice: "Oreore Sagi" and other theft crimes with NJ crime placed in the proper context
4) Sendaiben and MB on Narita Airport again, this time both before and after entry
5) Discussion: Oguri Saori's "Darling wa Gaikokujin" manga series: Does it help NJ assimilate?
6) Nagasakitabi.net uses "gaijin" stereotypes (blond wigs and fake noses) to push their website on TV
OTHERS "DOING SOMETHING ABOUT IT"
7) "Pinprick Protests": Chand Bakshi fights back against "NJ ID Checkpoint" hotel, gets apology
8 ) "Pinprick Protests": NJ refusing to comply with GOJ Census?
9) Japan Times "Richard Cory" updates us on child custody woes and systematic bias against NJ fathers
10) Japan Times "Richard Cory" on child custody woes part 2: Who abducts wins
TANGENTS APLENTY
11) Weekend Tangent: My great grandmother's veal turkey stuffing recipe
12) Travel Tangent: Hell to pay at LAX
13) Transit Tangent: Visited Tokyo DisneySea and tried not to enjoy myself, unsuccessfully
14) Cultural Tangent: American Soap Operas vs. Japanese Houmu Dorama
15) Just for fun: What are the going rates for English private lessons in your neck of Japan?
… and finally…
16) Japan Times JUST BE CAUSE Oct 5 2010: "Census blind to Japan's true diversity"
///////////////////////////////////////////////
By Arudou Debito from Sapporo, Japan (debito@debito.org)
Daily Blog updates, RSS, commentary, and podcasts at www.debito.org
Freely Forwardable
///////////////////////////////////////////////
STEPS FORWARD AND BACK
1) Paul Toland on US House of Representatives vote against child abductions to Japan 416-1
Media: The U.S. House of Representatives turned up the pressure Wednesday on Japan, strongly urging Tokyo to return immediately half-Japanese children that lawmakers say have been kidnapped from their American parents.
The House voted overwhelmingly for a nonbinding resolution that "condemns the abduction and retention" of children held in Japan "in violation of their human rights and United States and international law."
The resolution, which passed 416 to 1, also calls for Japan to allow Americans to visit their children and for Tokyo to join a 1980 international convention on child abduction that would allow for the quick return of the children to America.
Democratic Rep Jim Moran told reporters that the resolution sends a strong signal to Japan that the U.S. Congress "is watching and expecting action."
Republican Rep. Chris Smith said, "Americans are fed up with our friend and ally Japan and their pattern of noncooperation."
The Japanese Embassy said in a statement that Japan is sympathetic to the plight of children caught in custody battles between Japanese and American citizens and "is continuing to make sincere efforts to deal with this issue from the standpoint that the welfare of the child should be of the utmost importance."
https://www.debito.org/?p=7556
///////////////////////////////////////////////
2) Globe and Mail (Canada): "A black sun rises in a declining Japan"
Globe and Mail makes a case that a groundswell of far-rightism in Japan is even worrying the traditional far-rightists:
"Until recently, it was the likes of Mitsuhiro Kimura that worried Japan's political mainstream. The leader of the far-right Issuikai movement, he counted Saddam Hussein and French far-right leader Jean-Marie Le Pen among his allies, and created friction with Japan's neighbours by loudly denying the country's Second World War crimes.
But now Mr. Kimura is among those concerned about a new breed of extremists, who are capitalizing on the bruised pride and swelling anger in Japan with a brand of politics that makes even a friend of the former Iraqi dictator uncomfortable. As this country staggers through a second decade of economic stagnation, and suffers the indignation of being eclipsed by historic rival China, there's a common refrain coming from the growing ranks of this country's young and angry: Japan must stand up for itself — and that foreigners are to blame for the country's ills.
Take the past week alone. Infuriated by a perceived Japanese climbdown in a dispute with China over an island chain that both nations claim, right-wingers tossed smoke bombs at the Chinese consulates in the cities of Fukuoka and Nagasaki. Another man was arrested with a knife in his bag outside the Tokyo residence of Prime Minister Naoto Kan. On Friday, a motorcade of 60 cars organized by a right-wing group briefly surrounded a bus carrying Chinese tourists in Fukuoka, prompting Beijing to issue a warning to its citizens about the dangers of visiting Japan…"
https://www.debito.org/?p=7577
///////////////////////////////////////////////
3) Police notice: "Oreore Sagi" and other theft crimes with NJ crime placed in the proper context
Here we have the Hokkaido police issuing a warning (procured from a Sapporo post office ATM area last February) about "Oreore Sagi" ("Hey Mom, it's me, I need money fast" fraud) and other types of snatch and grab thefts. As you can read below, we have 1) a shyster phoning some old mom claiming to be her son and asking for emergency funds to be sent to an account, 2) a cash card being used for theft because the owner uses his or her birthday as their PIN number, 3) people storing their inkans too close to their bankbooks, 4) mysterious people distracting marks so they can snatch their belongings, and 5) call the police immediately if they think they've been a victim of crime.
Item 4) below in particular is germane to Debito.org. It mentions (in passing) that grabbers might say "you dropped some money" or "your clothes are dirty", or speak to you in a foreign language. After distracting you, then they run off with your cash or bag.
Fine. It's in context of other crimes committed by Japanese. Compare it with some past NPA posters making foreigners out to be the main culprits, including racist caricatures (which are fortunately avoided above), like this nasty one with darkies speaking katakana:
I think this new one is a definite improvement. Perhaps we're getting listened to.
One more thing: About this "Oreore Sagi" fraud phenomenon. One thing I've always wondered is, are parents so distant from their children nowadays that they can't recognize their own child's voice on the phone? I don't understand how they get duped. Explain, somebody?
https://www.debito.org/?p=7116
///////////////////////////////////////////////
4) Sendaiben and MB on Narita Airport again, this time both before and after entry
Sendaiben Sept 29: Just came back through Narita and gave my usual calm and friendly rant to the immigration officer (she wasn't particularly impressed -got a very curt "if you don't comply you can't come in"). Fair enough.
I then had a thought. The re-entry permit holder line anywhere I've been has been by far the shortest. I have never had to wait more than a minute or so, unlike the Japanese citizens who often have long lines (and let's not talk about the tourist lines, which are often pretty bad). I can also take my family through with me (even though they have Japanese passports) and save them time standing in line too.
If you think of the re-entry line as a VIP line that requires additional security (fingerprints), does that not make the whole thing easier to swallow? After all, it's not such a big deal, is it? It's not worth getting het up about every single time we come back into the country, is it?
Sadly, that doesn't work for me, however much I would like it to. I really dislike the policy, which seems pointless and needlessly offensive to me.
I will keep complaining, although I make sure I do so in a calm and friendly manner (the immigration officers on the desks didn't make the rules, so there is no point being hostile to them). However, as public servants, they should know how the public feels about the policies they carry out: thus it is my right to talk about it in a calm and reasonable way
Ironically it is this more than anything else which is pushing me to naturalize: I don't need the grief every time I come home. What does everyone else think?
https://www.debito.org/?p=7554
///////////////////////////////////////////////
5) Discussion: Oguri Saori's "Darling wa Gaikokujin" manga series: Does it help NJ assimilate?
We've recently had a decent discussion come up within the comments section of a blog entry, and it's good enough to warrant its own entry.
The topic was Oguri Saori's "Daarin Wa Gaikokujin" (My Darling is a Foreigner), a best-selling series of manga depicting the life of a quirky bilingual foreigner by the name of "Tony" who marries a Japanese woman. The manga chronicles the different personalities of the husband and wife as they deal with issues in Japan, create a life and a family together, travel from one place to another, and generally try to get inside "Tony's mind". There are several books under Oguri's authorship (at least one with real-life husband Tony Laszlo's co-billing — his "Guide to Happiness"), and even a movie earlier this year, not to mention an English translation, subway and train PSAs, and an ANA advertising deal. It's a very influential economic juggernaut that has spawned imitators (there are other "Darling"-types of books connected with different nationalities), and now with "DWG with baby" on board the epic is anticipated to continue for some years to come.
The question for Debito.org Readers: Is the DWG manga series really working in NJs best interests? As in, as far as Debito.org is concerned, helping NJ to assimilate, be treated as equals and moreover residents of Japan?
I came out in my last blog entry and said I wasn't sure it is. Let me give my standpoint and open the floor up for discussion:
https://www.debito.org/?p=7531
///////////////////////////////////////////////
6) Nagasakitabi.net uses "gaijin" stereotypes (blond wigs and fake noses) to push their website on TV
Debito.org Reader RN sends this:
September 19, 2010
Hi Debito, Hope all is well. Not sure if I've told you this before but I own a Slingbox in Fukuoka which allows me to watch live Japanese television from home here in the USA. This evening I was watching (FBS) and saw a commercial that was apparently trying to depict two Japanese people feeling like they were in a foreign country while on vacation. To make them look "foreign" they placed large noses and blonde hair on them and made them speak Japanese with a distinct foreign accent. It kind of reminded me of the whole McDonald's Mr. James deal (not as blatant but still made me think, "What the heck?!"). I was attempting to put together screen shots, etc. for you (as my Slingbox allows me to pause and back up) but I found the commercial on YouTube. The company is XXXXX [which links to an English site sponsored by the "Nagasaki Prefecture Convention and Visitors Bureau"]. Here is the CM link:
https://www.debito.org/?p=7523
///////////////////////////////////////////////
OTHERS "DOING SOMETHING ABOUT IT"
7) "Pinprick Protests": Chand Bakshi fights back against "NJ ID Checkpoint" hotel, gets apology
Here is a report from Chand Bakshi on how he called "basta" to a hotel that was racially profiling its customers, demanding all visually-looking NJ submit to an ID check and copy — claiming erroneously that this was required by law. Chand followed up on this to the point where he got capitulation and an apology. Well done.
This is actually pretty effective. The hotel I usually stay at in Tokyo has on various occasions (depending on how I was dressed) tried to Gaijin Card me too. I told them (and later followed up with an explanation to the management) that this only applied to tourists; NJ with Japanese addresses are not required to show ID. Of course, that's not what the NPA would have hotels believe — they have explicitly instructed hotels to inspect and photocopy ID of ALL NJ. Which is why we must fight back against this invitation to racial profiling, as Chand has below.
In my case, my Tokyo hotel yesterday asked me if I had a domestic address upon check-in (which I'm fine with). I pointed to my name on the check-in card and said, check your records — I'm not only a Japanese, but also a frequent customer. Got a deep apology. But at least now my hotel chain is more sophisticated in its approach.
Read on for Chand's report…
https://www.debito.org/?p=7580
///////////////////////////////////////////////
8 ) "Pinprick Protests": NJ refusing to comply with GOJ Census?
KD: "Hi Debito, Today a lady rang my door and kindly asked me to fill out the census papers. As you probably remember from previous censuses, in the spirit of civil disobedience I refuse to participate with the census, in protest of long-term resident NJ's not having the right to vote in local elections.
I discussed this with the lady who brought the census papers. She clearly understood my position and also brought up some points herself why it was strange that long-term NJ have no voting rights.
Anyway, to make a long story short, I do not intend to be an activist, but I thought that perhaps other people who follow you might be interested in the idea of protesting our lack of voting rights in this way.
In itself it won't get us voting rights, but it does send a message. Sending that message, whenever we can, and in every way we can, is important."
What do others think?
https://www.debito.org/?p=7536
///////////////////////////////////////////////
9) Japan Times "Richard Cory" updates us on child custody woes and systematic bias against NJ fathers
Japan Times: In December 2009, shortly after I detailed my fears in this column (Zeit Gist, Nov. 3, 2009) about my wife's ongoing affair potentially resulting in me losing custody of my children, family life got even worse as she became increasingly physically abusive toward our children. In fact, the police visited my home after one incident in December and recommended that I take my daughter to the Child Guidance Center (jidosodanjo) so that we could determine how to best handle her mother's violent behavior. Over the next few months, my daughter was interviewed twice at the Child Guidance Center and a few times at her public elementary school.
Unfortunately, as we neared the abduction date, bias against her American father started to become evident. Exactly two weeks before her abduction, her female school principal met privately with my daughter, who summarized her principal's comments as follows: "Your mother might be violent, but we know she's a very nice mother on the inside. She will change one day. She's just stressed right now."
Two days before the abduction, the school principal and two child welfare officers met with my daughter in the principal's office, and just hours after returning home, my daughter reported the following exchange between her and one of the welfare officers, an older Japanese woman: "And then she said, 'Who are you going to choose?' And I said, 'Because Mama beats me, I want to go to Daddy's side. I'm going to choose Daddy.' Then she said, 'Your mother does all the stuff at home, like cooking and doing the clothes and stuff like that, so I think it would be better if you choose your mother.' "
https://www.debito.org/?p=7545
///////////////////////////////////////////////
10) Japan Times "Richard Cory" on child custody woes part 2: Who abducts wins
Japan Times: Look at my case (and what the judge wrote in her custody ruling in July). My wife had admitted to the following:
● More than three years of ongoing adultery ("The reason for the breakup of the marriage was the respondent's adultery"); Giving large sums of money (JPY7.7 million) to her lover to help him pay off his gambling debt ("Respondent lent a large sum of money to her colleague");
● Taking my children on dates to bet on horse racing;
● Being currently on medication for various disorders ("Respondent became mentally ill and started seeing a doctor in or around January 2010 and worried about her insufficient communication with the children");
● Physically abusing her own spouse and children ("Respondent attacked petitioner . . . and used physical power that cannot be justified as discipline against the children").
Her own daughter fled from her after being abducted, and then testified against her. Moreover, my wife did not even petition for custody of the children until four months after I filed for divorce and custody. I even submitted a video showing my wife with not one of the bruises or injuries she claimed to have sustained the day before the video was taken. And we even had eyewitness testimony of her trying to injure herself. Could my case be any stronger?
Nevertheless, when the judge awarded me physical custody of my daughter, she also awarded physical custody of the boys to their mother. The reason: "There's no big problem (with the boys staying where they are)."
Based on such reasoning, you can bet the bank that this judge would have awarded custody of all three children to my wife had I not been able to rescue one. And the judge would probably have given me custody of them all had they all been able to get free.
Japan's family court is simply a facade designed to make an unevolved system appear civilized.
Let's not kid ourselves. In Japan, "possession of the children" trumps the "best interests of the children" every time, particularly when the "best interests of the children" are never even addressed. And when you have a country that is pouring great sums of money into a system that shuffles children off to hidden locations whenever a parent makes an unverified DV claim, the state, in essence, becomes complicit in the abduction of the children…
https://www.debito.org/?p=7548
///////////////////////////////////////////////
TANGENTS APLENTY
11) Weekend Tangent: My great grandmother's veal turkey stuffing recipe
In honor of upcoming Canadian (and soon American) Thanksgiving:
APPOLONIA MENDIS CYPCAR'S TURKEY STUFFING
From Arudou Debito, great grandson, Debito.org
(for a 13-14 lb turkey)
1 lb ground veal
1/2 box of saltines (box 1 1b size) ground coarsely
1 pint whole milk
1/2 lb butter
4 eggs beaten
salt and pepper to taste
It's the taste I miss most from the USA.
https://www.debito.org/?p=5796
///////////////////////////////////////////////
12) Travel Tangent: Hell to pay at LAX
Here is a summary of the hell I went through at LAX. It wasn't passport control. It was the simply awful treatment everyone has to go through regardless of nationality, unbecoming of a first-world airport. Seems like the American airline industry is on a race to the bottom for standards of customer service. Some airports have already essentially become bus stations. Other American airport horror stories welcome, in hopes that someone will care about outsiders' opinions as much as the Japanese airports do.
https://www.debito.org/?p=7499
///////////////////////////////////////////////
13) Transit Tangent: Visited Tokyo DisneySea and tried not to enjoy myself, unsuccessfully
I'm currently writing you from LAX from the United Airlines lounge, and am pretty zoned out at the moment what with the jetlag. Today I'll write something a little more off-topic and talk about something more cultural: DisneySea.
I'm not generally one for theme parks. I've been to the occasional traveling show (cue Cher song), visited a neighborhood place a couple of times called Roseland in Canandaigua, NY (with Roaring Twenties/WWII equivalents of video games — "The Feather Dance" and "Shoot Down the Zero!", anyone?), enjoyed the Santa Cruz Boardwalk (highlights — seeing Eighties bands doing nostalgia tours, and enjoying the video arcade with the crowded corner offering video games like Pac-Man, Gorf, Tron, and Asteroids to the post-Pong generation), gone to Six Flags in a couple of places, and been to Disneys in Anaheim and Orlando. I find the nickle-and-diming of concessions and the dodginess of the Carny booths kinda get to me.
And when I said to some drinking buddies on Saturday that I would be going to DisneySea with a friend (this would be my first time to go to Tokyo Disneyland), all the guys groaned and said, "Jeez, that's a place for couples, all sappy'n'shit!", while their girlfriends all gave a collective sigh of "ii naaa…" It's the Happiest Place on the Planet(TM), they kept saying.
But I checked my machismo at the door and went anyway…
https://www.debito.org/?p=7494
///////////////////////////////////////////////
14) Cultural Tangent: American Soap Operas vs. Japanese Houmu Dorama
Completely self-indulgent tangent, but I will relate it back to Japan. I watched on a complete whim the very last episode of American soap opera "As the World Turns". It's been going on for 54 years, with some characters apparently going on (according to Entertainment Weekly; it's not as if I watch this stuff) for nearly forty. It has even been parodied by the Carol Burnett Show as "As the Stomach Turns" (god I miss Carol's comedy; what happened to her?); the soap opera has, however, outlasted her. Until now.
I watched it and felt that the parody was appropriate. Fascinating was that every scene (this was a final tie-up all the relationships, making them all "happy ever after", no drama necessary) ended with a hug if not a hug and a kiss. Every scene, seriously. As if all conflict, inner or outer, was healed by the power of hugs. In general, I find the more lower-market (as in, shooting for a larger, "average" audience, real or imagined) the American programs aimed for, the higher the hug frequency. And the mantra of the ATWT's last show was that "we all lead normal lives", real or imagined. Ewg. (The commercials, aiming for a female audience of course, stressed family security and warmth of the hearth; it added to this different world of "normalness" I've never really been a party to.) The last scene (there was no retrospective, no cast bows at the end saying goodbye like on some American farewell stage shows) showed the anchoring-character of the doctor leaving his office for retirement, switching off his light, and leaving a spotlight on this cheesy globe (out of place in the dark-panelled room) doing, you guessed it, a long spin… Just in case you lack comprehension of metaphor.
Contrast that with the "home dramas" of Japan that I've managed to sit through…
https://www.debito.org/?p=7513
///////////////////////////////////////////////
15) Just for fun: What are the going rates for English private lessons in your neck of Japan?
I often get requests from people online who think about moving to Japan and supplementing their Eikaiwa income with "private lessons", i.e. your own cottage industry of meetings with an individual or groups in an informal setting and at an hourly rate. They inquire how efficacious that plan my be.
I usually caution people against that, since the Bubble-Era fees are long gone (I was pulling down JPY10,000 an hour once upon a time). Moreover, the Post-Bubble "McDonaldization of Eikaiwa" (as I have heard it described on other listservs) by the NOVAs and ECs have driven average rates for English teaching down to hardscrabble levels, meaning people without a full-time job with health insurance and benefits will probably not be able to make a living on private lessons alone.
But that's just what've I heard. I haven't done many privates for years now (Sapporo's market rates, if you can get privates at all, appear to be around JPY2000-3500 an hour). I thought I'd ask Debito.org Readers around Japan what they're getting/can get for private lessons (in English or in any language you teach) in their local area. Let us know.
https://www.debito.org/?p=7542
///////////////////////////////////////////////
… and finally…
16) Japan Times JUST BE CAUSE Oct 5 2010: "Census blind to Japan's true diversity"
Census blind to Japan's true diversity
The Japan Times: Tuesday, Oct. 5, 2010
By DEBITO ARUDOU
http://search.japantimes.co.jp/cgi-bin/fl20101005ad.html
Commentary at http://www.debito.org/?p=7574
///////////////////////////////////////////////
All for a little while. I'm still going to be writing more and blogging less, so the next Newsletter will probably be in early November. Enjoy Canadian Thanksgiving, Canucks!
Arudou Debito from Sapporo, Japan (debito@debito.org)
Daily Blog updates, RSS, commentary, and podcasts at www.debito.org
DEBITO.ORG NEWSLETTER OCTOBER 9, 2010 ENDS