Posted by Dr. ARUDOU, Debito on July 12th, 2012
Books etc. by ARUDOU Debito (click on icon):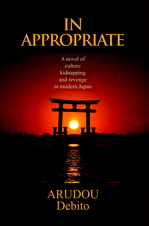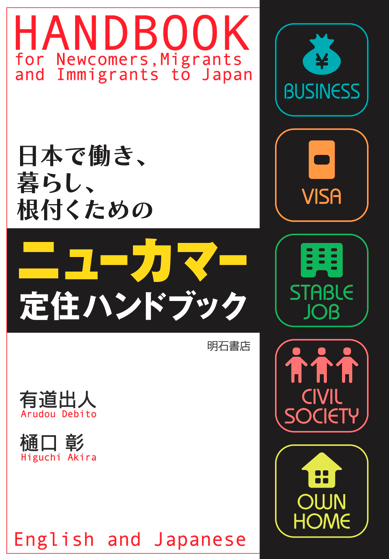 UPDATES ON TWITTER: arudoudebito
DEBITO.ORG PODCASTS on iTunes, subscribe free
Hi Blog. After many years of bureaucratic policy trial balloons and lots of advance warning, July 9, 2012 has finally come to pass, and the longstanding Alien Registration System, promulgated in 1952 to help the GOJ keep track of the pesky aliens (mostly former citizens of the Japanese Empire who were stripped of their Japanese citizenship) who wouldn't go back to "their country" (staying on in Japan as Zainichi, generational "foreigners" born in Japan to this day), has been abolished sixty years later. In its place, NJ are now registered on Japan's juuminhyou Residency Certificates — closing up a ludicrous system where only citizens could be registered as "residents" (juumin) despite paying Residents' Tax (yup, juuminzei), and teeth-grindlingly stupid moves such as local governments giving animals and fictional characters their own honorary "juuminhyou" despite untaxable status.  Now NJ can also now be listed with their Japanese (and non-Japanese) families properly as family members and heads of household (no longer excluded even from local population tallies for not being listed in the juumin kihon daicho). Finally, closure to that. Good riddance.
That said, the new system also includes new Gaijin Cards (Zairyuu Kaado), which are higher-tech versions (I say remotely trackable due to the RFID technology inside, by design; see below) and still required under criminal law to be carried 24-7 under penalty of search, seizure, and possible incarceration for a week or three. That hasn't changed. In fact I would now argue it's gotten worse — since Japanese citizens (even if computer chip technology has also been introduced into J driver licenses and passports, which not all Japanese get anyway) are not required by law to carry any ID whatsoever at all times. Some historical links regarding the true intention of the ZRK (tracking and control of untrustworthy NJ, not convenience for them as is generally sold) follow.
Japan Times IC Chip Gaijin Card Pt 3: View of Bureaucrats: Control of NJ at all costs
Japan Times May 20, 2009: "IC you: Bugging the Alien" article on new Gaijin Cards
Bus. consortium to track Ginza shoppers, then IC Gaijin Cards?
Kyodo: GOJ proposes GPS tracking of criminals. SITYS.
Mysterious Asahi translation: "IC cards planned to track 'nikkeijin'"
Japan Times on Japan's emerging NJ policing laws. Nichibenren: "violation of human rights"
Follow-up: More on fingerprinting, tracking people electronically, and RFID technology
New Japanese driver licenses now have IC Chips, no honseki
Alright, I'll paste some articles below and let's see what the media has made of this. Feel free to tell us how the changes have been affecting you as well. Arudou Debito
////////////////////////////////////////////
Alien system ends; foreigners to be issued resident cards
The Yomiuri Shimbun (Jul. 10, 2012), courtesy of JT
http://www.yomiuri.co.jp/dy/national/T120709004610.htm
A new management system for foreign residents in Japan started Monday. As part of the changes, the previous alien registration system will be abolished and a new resident card will be issued to foreign residents in Japan.
The new system is designed to reduce the number of foreign residents staying in Japan illegally and to be more convenient for bona fide foreign residents.
In the previous alien registration system that began in 1952, local municipalities issued alien registration certificates to foreign residents without examining their resident status. This enabled foreigners staying in Japan illegally to obtain the certificates.
Under the new system, the Justice Ministry will issue a resident card to foreign residents, excluding certain people such as diplomats, who have been granted a status of residence in Japan with a period of stay for more than three months. The card will hold information that includes the name, nationality, date of birth and address of the cardholder.
For special permanent residents such as Korean residents in Japan, a special permanent resident certificate will be issued instead of a resident card.
The period of stay limit for foreign residents has been extended from three years to five years. Under the new system, people leaving Japan will not be required in principle to obtain a re-entry permit if they hold a passport and a resident card and return to Japan within a year and before their period of stay expires.
Foreigners with a resident card or a special permanent resident certificate are included in the national resident registry and they will be able to obtain a copy of their certificate of residence from their local municipality.
On the other hand, those who stay in Japan illegally will not be included in the registry. This could prevent them from obtaining administrative services including education services and medical assistance because local municipalities will not be able to obtain necessary information, such as their address.
ENDS
////////////////////////////////////////////
The Japan Times Tuesday, July 10, 2012
Re-entry permits soon consigned to history
Foreigners flock for new residence IDs
By MINORU MATSUTANI Staff writer
A large number of foreign residents flocked to the Tokyo Regional Immigration Bureau on Monday, the first day it is issuing new "zairyu," or residence, cards to replace alien registration cards.
At 8:30 a.m., more than 100 people had lined up for the applications to obtain a new card, an official at the center in Minato Ward said.
Those who arrived at around 8 a.m. had to wait about two hours. People who didn't bring a head shot measuring 4 cm by 3 cm also had to line up at the photo booths.
Eight regional bureaus, six district immigration offices and 63 branch offices across the nation are now issuing the residence card. Applicants can go to a bureau or office, fill out the application form and receive the card the same day.
"I feel like a part of society," Yang Chunying, 52, a Chinese national, said after receiving her residence card at the Tokyo bureau. "I am glad to have the card because things will be more convenient."
The new immigration control system that began Monday has unified the administrative work on foreign residents under the Immigration Bureau.
While some fear that controls on non-Japanese will be tightened, the government has made it more convenient for law-abiding foreigners by extending visa lengths to five years from the current three, and eliminating the requirement to obtain a re-entry permit before leaving Japan for any period less than a year.
The system is designed to be tougher on illegal residents, however.
Such people have been receiving various public services because municipalities usually don't care about who is here legally or illegally, but this may not last under the Immigration Bureau's watch.
Some 130 people, mainly Asians, held a demonstration Monday against the new immigration control system at Hibiya Park in Chiyoda Ward, Tokyo, saying it is overly harsh on illegal residents.
Rest of the article at
http://www.japantimes.co.jp/text/nn20120710a1.html
//////////////////////////////////////////////////
First new residency cards for foreign nationals issued at Haneda
July 09, 2012 (Mainichi Japan)
http://mainichi.jp/english/english/newsselect/news/20120709p2a00m0na013000c.html
Two people on a flight from the United States became the first to get Japan's new foreign resident cards early on the morning of July 9, the first day of the Ministry of Justice's new mid- to long-term residency management system for foreign nationals.
Late on July 8, staff from the Immigration Bureau — administered by the justice ministry — stood by at Tokyo International Airport (Haneda) in preparation for the switch to the new system. When the clock struck midnight, they changed the signs above the immigration counters, and those indicating card-issuance counters for mid- to long-term residents.
Two passengers from a flight from Los Angeles, California, were the first to apply for the new resident cards at around 4:30 a.m. on July 9. The first recipient was Carlos Shaw, a 37-year-old Tennessee native who was coming to Japan for the first time. Shaw, who is here to teach English at an elementary and junior high school in Yamagata, said he felt lucky to be the first recipient of the new card.
Because the alien registration certificates that had heretofore been issued are being replaced by the new resident cards, mid- to long-term residents already in Japan must exchange their old cards for new ones when they renew their visas. Foreign nationals residing in Japan illegally are not eligible for resident cards under the new system.
ENDS
Original Japanese
在留管理:新制度スタート 「カード」を交付
毎日新聞 2012年07月09日 10時14分(最終更新 07月09日 11時08分)
http://mainichi.jp/select/news/20120709k0000e010074000c.html
3カ月以内の短期滞在者などを除く外国人正規滞在者(中長期在留者)に「在留カード」を交付する「新しい在留管理制度」が9日、スタートした。同日早朝、羽田空港(東京都大田区)の入国審査場では、米国籍の男性が同制度で初の在留カードを手にした。
羽田空港では、8日深夜から法務省入国管理局の担当者らが新制度への移行に向けて待機。日付が9日に変わると、入国審査ゲート上の看板の表示を新しくする作業を行い、カード交付用窓口の表示を「中長期在留外国人」に変えた。
9日午前4時半過ぎ、米ロサンゼルスからの航空機に搭乗していたうち2人が初めて在留カードの交付手続きを実施。第1号の取得者となった米テネシー州のカルロス・ショーさん(37)は「山形の小中学校で英語を教えるため、初めて日本に来た。今日から在留管理制度が新しくなることは知らなかったので、第1号だと聞いて、とてもラッキーな気分だ」と驚いていた。
新制度の導入により外国人登録証が失効するため、既に国内に滞在している中長期在留者は9日以降、在留カードへの切り替えを行うことになるが、不法滞在者は新制度の適用外で、カードを取得できない。【伊藤一郎】
ENDS