mytest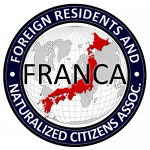 Hi Blog.  Since weekends are usually times for people to relax (and hits to this blog reflect that; most of the traffic seems to come at the beginnings of weeks, tapering off during Saturdays and Sundays, as people find better things to do than spend their lives behind computer screens), let me devote this Saturday's entry to a pleasant afterglow I had yesterday morning.
Linking to Debito.org was a blog by a chap named Kelly Yancey.  He's going through a bit of a bad patch at the moment, it seems, and I hope he snaps out of it.  (Kelly, if you're reading this, things will get better over time — stick with it; avoid grand conspiracy theories, and do what you can to fill your world with sympathetic people and pleasant things.)
Anyway, the afterglow was from this section:
Since coming to Japan, I have come to appreciate Dave Aldwinckle's complaints and the hard work he has been doing to try and bring the injustices in Japan into the forefront. Whenever I get worked up enough about something that I want to bitch about it on my own blog, I just need to go hit his debito.org to commiserate.

When I was sitting in the comfort of the U.S.A., Debito's stories seem farfetched and, frankly, unbelievable. More than once I thought he was making a mountain out of a molehill. However, I now realize that he doesn't have to go digging to find examples of racism, discrimination, injustice, and hypocrisy…it turns out there is just a lot of material to pull from here in Japan.

Unfortunately, while brave individuals like Debito are trying to recitify the situation, apologists still abound…
http://kbyanc.blogspot.com/2009/03/racism-in-japan.html
I like hearing that.  There's just no convincing some people that there are issues that need to be addressed regarding treatment of, and, yes, discrimination towards, people who are NJ or who look NJ.  Especially when many of the dismissive are either unaware (which Debito.org tries to fix with as much reportage and substantiation as possible), or incredulous because they just haven't experienced the discrimination for themselves.  But when it does happen to them here in the end — and it's systematic enough that sooner or later it probably will — then people generally react in two ways:  either 1) they refuse to believe it out of spite (plenty of people don't like to admit they were wrong; this is the wrong approach, for it will just make you bitter and eventually drive you out of Japan), or 2) they capitulate, face up to the issue constructively, and find ways to deal with their feelings that bring things to a resolution.  
Like Kelly has.  Thanks for coming out and saying so.  It makes the years of effort creating and maintaining Debito.org feel that much more worthwhile.  
Now let's do something about resolving things.  We need everyone's help, and let's hope even the diehard apologists come round someday.  Arudou Debito in Sapporo