mytest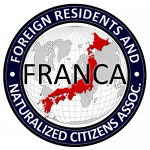 UPDATES ON TWITTER: arudoudebito
DEBITO.ORG NEWSLETTER SEPTEMBER 22, 2009
LAST SUMMER INSTALLMENT: ODDS AND SODS
Table of Contents:
//////////////////////////////////////////////////////////////////////////
PROMISING DEVELOPMENTS
1) TransPacific Radio gives background on PM Hatoyama Cabinet members
2) Eikaiwa NOVA embezzler and former boss Saruhashi gets his: 3.5 years
3) Activism: New documentary "The Cove" on dolphin slaughters in Taiji, Wakayama Pref
4) Terrie's Take on recent new rulings on tenants' rights in Japan
5) Yomiuri: UN set to criticize Japan for lack of gender equality and flawed marriage law (read: child abductions after divorce)
LESS SO
6) Narita cops allegedly stopping newly-arrived "foreigners" for passport checks before boarding Narita Express trains
7) Another way of stealing children in J marriages: legal adoption
8 ) LA Times: "Charisma Man: An American geek is reborn in Japan"
DOING SOMETHING ABOUT IT
9) Community's DMG on how he dealt with too much neighborhood construction noise
10) TheWorldGame.com on why Brazilian footballers in Japan are so footloose
11) Bumping into Ramos Rui, one of my heroes, by chance in Nagoya
12) Japan Times interviews Dave Spector on Japanese Media
13) Interview by JapanTechTalk on NJ rights, courtesy of Mondo Books Nagoya
14) Discussion: What do you think about offers of special discounts for NJ? (Blog poll included)
… and finally …
15) Sapporo Source DEBITO column Sept 09 on "albums" vs "tracks" culture (full text)
//////////////////////////////////////////////////////////////////////////
By Arudou Debito, Sapporo, Japan
debito@debito.org, Daily Blog updates at www.debito.org (long-time readers, please resubscribe your RSS)
Freely Forwardable
//////////////////////////////////////////////////////////////////////////
PROMISING DEVELOPMENTS
1) TransPacific Radio gives background on PM Hatoyama Cabinet members
Well done on TPR for getting this information out. Have a read. Get to know your government, because this one might be the one which is more attentive to the needs of the NJ communities. Regardless of bent, I myself have had the Cabinet and all their backgrounds posted on the wall of my loo, like I have had for every Cabinet since Koizumi 2003. Their writeup as follows:
===================================
Hatoyama Officially becomes PM, Names Cabinet
TransPacific Radio.com Filed under: Japan in the News, Politics
Posted by Garrett DeOrio at 11:18 am on Thursday, September 17, 2009
As expected, Yukio Hatoyama officially became Japan's 93rd Prime Minister yesterday and just the second since the long-ruling Liberal Democratic Party was founded not to belong to it. Just as importantly, after roughly two weeks of managing to keep the press at bay and leaking little, if anything about the make-up of the new Cabinet, the new Prime Minister formed the first Cabinet since 1955 to contain no LDP members.
In fact, as promised, the new Cabinet is made up entirely of elected representatives. Every portfolio went to a DPJ member, with only two positions going to the DPJ's partners: State Minister in Charge of Consumer Affairs and the Declining Birthrate to SDP head Mizuho Fukushima and State Minister in Charge of Financial and Postal Issues to People's New Party chief Shizuka Kamei.
So, without further ado, the Cabinet:
Yukio Hatoyama, Prime Minister…
https://www.debito.org/?p=4457
//////////////////////////////////////////////////////////////////////////
2) Eikaiwa NOVA embezzler and former boss Saruhashi gets his: 3.5 years
Japan Times Aug 27: Former Nova President Nozomu Sahashi was sentenced Wednesday to 3 1/2 years in prison by the Osaka District Court for his role in skimming off employee funds in 2007, just before the foreign language school giant's bankruptcy that October.
Presiding Judge Hiroaki Higuchi's severe sentence took some in the courtroom by surprise. Prosecutors had sought five years for the former president of what was once the country's largest foreign language school chain and employer of foreign nationals. Sahashi is expected to appeal the sentence.
Sahashi was charged with funneling nearly 320 million from employee benefit funds to a bank account belonging to a Nova affiliate in July 2007. He denied embezzling the funds, telling the court he used the money on behalf of his employees.
He tried to portray himself as only one of a group of senior Nova executives responsible for the decision. But the judge said that given the amount of money and his authority, Sahashi bore a heavy responsibility for the crime.
https://www.debito.org/?p=4364
//////////////////////////////////////////////////////////////////////////
3) Activism: New documentary "The Cove" on dolphin slaughters in Taiji, Wakayama Pref
Sunday Tangent: I heard on NPR Fresh Air July 30 (podcasts available here) a review and an interview on upcoming documentary "THE COVE", regarding a town in Wakayama Prefecture named Taiji famous for its whale hunts. It's also going to become famous for its periodic dolphin slaughter, the subject of this movie.
Ostensibly, the activists claim, for "pest control", the slaughter of entire schools (if you consider the dolphin a fish, like the fishermen apparently do) of dolphins is apparently due to the dolphins having a taste for the fish that they catch (sorry, but dolphins gotta eat too). It's a frequent event that takes place in a national park that is otherwise off limits to public eyes. The documentarians (one of whom trained Flipper — seriously — and realized the error of his ways) actually put cameras in rocks and other submersibles to capture first hand the footage of the slaughter the GOJ denies is happening. The movie comes out in spring. NPR gave it a good review.
https://www.debito.org/?p=4042
//////////////////////////////////////////////////////////////////////////
4) Terrie's Take on recent new rulings on tenants' rights in Japan
Terrie's Take July 26, 2009: The Japan Times has been doing a good job recently of documenting consumer rights law cases and also foreigner- related issues that might be of use to its readers. Last week they reported on a landmark court ruling, whereby the Kyoto District Court said that a landlord's insistence on contract renewal fees ("koshinryo") may violate the rights of the tenant. This is the first time such a case has been ruled in favor of the tenant.
In the case, the tenant was apparently told that there would be a contract renewal fee, but not why. Presumably the agent thought that because the renewal fee is a traditional payment, dating back to post-war times when the government didn't want returnee soldiers relocating en masse to the cities, they didn't go into it in any detail. In any case, as a result of that oversight, when the plaintiff moved out several months after he'd paid the renewal and the landlord refused to refund the payment, the tenant took offense and took the landlord to court.
The basis for the lawsuit was the 2001 revised consumer protection law, which the court agreed had precedence over the tenancy law. In the ruling the judge apparently commented that, "The reasons for charging contract renewal fees must be clearly explained to tenants and agreed upon between the two sides."
Now before everyone starts hooting from the roof tops that it's time for landlords to get some of their own medicine, it's worth remembering that this is the exact same Kyoto District Court that in January of last year dismissed a very similar lawsuit. In that earlier case, the tenant also based his claim on the 2001 consumer contract law, where he said that renewal fees in the way they are currently notified and imposed, constitute a contract that "Unilaterally causes damage to the interests of consumers." We daresay that a lot of readers would agree with that statement!…
https://www.debito.org/?p=4426
//////////////////////////////////////////////////////////////////////////
5) Yomiuri: UN set to criticize Japan for lack of gender equality and flawed marriage law (read: child abductions after divorce)
Yomiuri describes the political business as usual regarding another facet of human rights in Japan:
A legislator-sponsored bill calling for a revision of the Civil Code in response to CEDAW recommendations has been repeatedly presented to the Diet. But the bill that would delete provisions that discriminate against women has been scrapped every time without in-depth deliberation.
Japan's failure to ratify the Optional Protocol on the convention on the elimination of discrimination against women also is being questioned by the international community.
The protocol stipulates that a mechanism should be put in place that would allow individual women who have exhausted legal and other avenues available within Japan to report directly to CEDAW to ask them to inquire into alleged human rights violations against them.
As Japan has been repeatedly urged to ratify the protocol, government ministries and agencies concerned have been studying the wisdom of doing so.
However, with many politicians expressing wariness about signing a protocol they say might come into conflict with the principle of independence of the nation's judiciary, no earnest discussions have yet to take place in the political arena.
https://www.debito.org/?p=4076
//////////////////////////////////////////////////////////////////////////
LESS SO
6) Narita cops allegedly stopping newly-arrived "foreigners" for passport checks before boarding Narita Express trains
September 16, 2009 11:26:32 AM JST
Don't really want to open a can of worms here, and would prefer that this stay anonymous if blogged, but I was stopped by the police in Narita airport after returning from a two-week trip to the states yesterday.
There were many officers deployed in a couple of lines to catch anyone comming off the escalators to the trains out of the airport. They were carrying clipboards and stopping anyone who looked foreign for a "passport check."
COMMENT: Anyone else experiencing this in Japan's airports? Of course, I have on several occasions (one here and another here). Others, please pipe up. As the author says, this passport checkpoint coming so fast on the heels of Immigration checks is a bit much.
https://www.debito.org/?p=4411
//////////////////////////////////////////////////////////////////////////
7) Another way of stealing children in J marriages: legal adoption
For some reason the most popular article on the Japan Times website September 6 was one nearly a decade old, one about another loophole in Japanese marriage laws legal adoption of the children by the grandparents.
Not the first time I've heard of this (I had a friend whom this happened to as well), and it's definitely not limited to J-NJ marriages, but it's one more cautionary tale about how the lack of strong family law, coupled with the Koseki system and easy inkan fraud, leads to parents being denied access (or even legal ties to) to their kids in Japan.
What makes this an NJ issue is that many don't know the system, or get taken advantage of more easily than native speakers. And then many spend years stringing along in Japan just trying to see their kids. The information is no less poignant today.
https://www.debito.org/?p=4332
//////////////////////////////////////////////////////////////////////////
8 ) LA Times: "Charisma Man: An American geek is reborn in Japan"
LA Times: From his window seat in the Roppongi bar district, Neil Garscadden eyes an exotic street parade: the reggae-styled hipsters, the Nigerian nightclub hawkers, the soft-stepping geishas, the secretaries in miniskirts and impossibly heavy eye shadow.
The nuances of the scene, Garscadden insists, would be lost on a mere tourist.
This, he says, is a job for Charisma Man.
With his blue eyes, tousled blond hair and foreign passport, Charisma Man is a sake-sipping man about town, suavely negotiating the intricacies of Japanese culture. Women adore him. Men respect, even fear, him. Life in the East bends to his every whim.
"It's great to be a Western guy in Asia," he says. "I've got lots of money, chicks dig me everybody respects me."
Well, not everybody.
In this land of anime, Charisma Man is a comic strip character created in 1998 by Larry Rodney, a Canadian then teaching English in Nagoya, to lampoon what he saw as the absurd hubris of many Western men in Japan. Capitalizing on their novelty status, they prowled for cheap thrills, an easy paycheck and sex not necessarily in that order. Many were slackers posing as teachers (a job for which they were underqualified) to continue the charade of their low-wattage celebrity.
https://www.debito.org/?p=4368
//////////////////////////////////////////////////////////////////////////
DOING SOMETHING ABOUT IT
9) Community's DMG on how he dealt with too much neighborhood construction noise
I have a series of letters here from DMG, writing for The Community, who tells us what he did (relatively successfully) to reduce construction noise in his neighborhood, which was affecting both his work and rest. If you have a similar situation of neighborhood meiwaku, take it to the authorities, talk to the neighbors, and open a dialog with the meiwaku-ers, is the lesson. In his case, it seems to have worked. Good for him. Passing this on as practical advice.
https://www.debito.org/?p=4417
//////////////////////////////////////////////////////////////////////////
10) TheWorldGame.com on why Brazilian footballers in Japan are so footloose
[Gamba Osaka striker Leandro's] departure has the potential to unleash catcalls that Brazilian players are only in the J-League for the money.
Well, so what if they are?
In a country where xenophobia is a softly-spoken secret how's this for McDonald's latest Japanese ad campaign? can anyone really blame Leandro for hopping on the first available flight to Doha?
There are plenty of Brazilians in the J-League committed to the cause. Some, like the high-profile Zico, are afforded star status.
But others toil in relative anonymity, happy to ply their trade far from their homeland, struggling to overcome cultural and language barriers.
Often their contracts are terminated with no fanfare and little regard for their welfare
It's a draining lifestyle one I can attest to and I don't begrudge a single Brazilian player who chooses to make a living in Japan, or one who departs for pastures anew.
https://www.debito.org/?p=4335
//////////////////////////////////////////////////////////////////////////
11) Bumping into Ramos Rui, one of my heroes, by chance in Nagoya
I was in Nagoya two weeks ago finishing up one of my intensive courses on Media Professionalism, and at checkout from my hotel who should I bump into on the elevator but somebody I could have sworn looked just like one of my heroes.
Ramos Rui, a famous soccer player who has done a great deal in my opinion for assimilation of NJ (he even naturalized in 1989), toughing it out in what would become the J-League, then the Japan National Team, was standing right there. I asked him, he acknowledged, and we had a quick conversation in Japanese about things. Photo enclosed.
https://www.debito.org/?p=4381
//////////////////////////////////////////////////////////////////////////
12) Japan Times interviews Dave Spector on Japanese Media
We've been talking about the media quite a bit lately. Now let's read an interview with someone on the other side, who is, according to the Japanese media polls, one of the, if not the, most trusted and popular commentators in Japanese TV. Dave Spector. Yes, Dave Spector, who has been a very kind supporter of Debito.org. Excerpt from JT article follows.
https://www.debito.org/?p=4078
//////////////////////////////////////////////////////////////////////////
13) Interview by JapanTechTalk on NJ rights, courtesy of Mondo Books Nagoya
My last night in Nagoya I had an immensely enjoyable interview with JapanTechTalk's Robert Sanzalone over tebasaki.
Have a listen! http://twaud.io/tg
Amazing how six hours after an interview takes place it can be all over the Net.
Thanks to an introduction by Mike and Jose at Mondo Books Nagoya.
http://www.mondo-books.com/
on Facebook
http://www.facebook.com/pages/Nagoya-Japan/Mondo-Books-/218012530513
Two autographed signed copies of HANDBOOK FOR NEWCOMERS, MIGRANTS, AND IMMIGRANTS available at Mondo. First come, first purchased! How to get there at above links!
https://www.debito.org/?p=4375
//////////////////////////////////////////////////////////////////////////
14) Discussion: What do you think about offers of special discounts for NJ? (Blog poll included)
The Community yahoogroup has been having an interesting discussion about "positive discrimination", where NJ actually get special treatment or discounts for being foreign. What do people here think about that?
Here are some posts from The Community developing the issue. Comments? Debito
Discussion begins: "Just wanted to pass along a very nice thing that happened today went out to a cafe here in Fukui with my family for lunch and was surprised to find a sign in English at the register reading "10% discount to all foreigners". Although the discount is nice, it's even nicer to see a shop going out of its way to open itself up to NJs, especially in a conservative prefecture like Fukui…"
https://www.debito.org/?p=4354
I also put up a blog poll, just in case you'd like to express your opinion:
=======================================
If you (personally) were offered a "foreigner discount" by a store in Japan, would you take it?
Yes, under just about any circumstances.
No, under just about any circumstances.
Depends on my mood.
Depends on the store.
Depends on the spirit under which it is offered.
Not sure, undecided, or indifferent.
None of the above.
=======================================
Vote at any Debito.org page, or at
https://www.debito.org/?page_id=1851
//////////////////////////////////////////////////////////////////////////
… and finally …
15) Sapporo Source DEBITO column Sept 09 on "albums" vs "tracks" culture (full text)
Keeping track of musical albums as an art form
Column three for the free newspaper SAPPORO SOURCE Debito Column
Submitted August 1, 2009, to be published in September Issue
DRAFT FIVE
Download entire magazine in pdf format at
http://www.sapporosource.com/
I turned 44 this year, but in terms of musical tastes I might as well be prehistoric. Music "generations" (as in, the life cycle of a genre that people identify with, like "Psychedelic", "Heavy Metal", "Funk", "Punk", "Disco", "New Wave", "80s Music" etc.) seem to be getting shorter, lasting four years or so.
When I was young and the earth's crust was still forming, we'd listen to music that our parents couldn't understand (Led Zeppelin or Black Sabbath usually did the trick). After all, it was "our" music, not theirs. The fogies would dismiss it as some kind of unsyncopated noise that we had better turn down before the Devil carried us off.
Nowadays, however, I'm the fogy who doesn't get it. I flip on MTV and see scantily-clad line dancers working out to "rap music" (to me, an oxymoron). Or I listen nonplussed to "hip hop" or "house". Somehow I missed whole genres. "Grunge"? "Trance"? "Techno"? Meanwhile tunes familiar to me have either been relegated to "Classic Rock", or else are getting recycled by American Idol as "remakes" and "updates". Sometimes I wonder if we've run out of ways to manipulate the 120 notes audible to the human ear.
Ah well. That's the way generations of genres work. If kids they want to buy something new just because it's new (and why wouldn't they we did), then fine. But I will harrumph that you whipper-snappers have lost something. Due to the way your music is packaged.
Rest at https://www.debito.org/?p=4244
//////////////////////////////////////////////////////////////////////////
All for today! Thanks for reading!
Arudou Debito (debito@debito.org, www.debito.org)
Sapporo, Japan
DEBITO.ORG NEWSLETTER SEPTEMBER 22, 2009 ENDS