mytest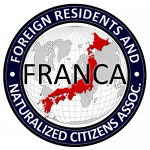 UPDATES ON TWITTER: arudoudebito
DEBITO.ORG PODCASTS now on iTunes, subscribe free
Hi Blog.  Related to my post last Saturday talking about how things were becoming cheaper in a deflationary Japanese economy:
Something came on NHK News this morning at 7AM that nearly induced reverse peristalsis on my corn flakes due to excessive laughter.  Deep breath:
The exchange rate this morning was 81 yen and change to the dollar.  The (well-grounded) complaint is that this is discouraging tourism to Japan and purchases from NJ tourists, due to things being make more expensive upon exchange.
So NHK was breathlessly reporting (live) from Narita Airport this morning how authorities had come up with a great wheeze to stimulate spending!
Ready for it?
"PREFERENTIAL RATE COUPONS!!"
Meaning that if you hold one of these coupons (they provided a graphic with a big-nosed (of course) gaijin clutching this precious slip of paper), you would get a discount on your exchange from dollars (or whatever) into yen.
And that preferential rate would be?
Ready for it?
(Rips the Post-It off the graphic…)
30 SEN!!
Yes, 0.3 OF A YEN discount off your yen exchange rate!!
They even conveniently calculated with a couple more graphic Post-Its how much you would save.  Tourists, if they could see beyond their proboscis to spending some 2300 USD or so, the amount saved would be…
Ready for it?
(Rips the Post-It off the graphic…)
EIGHT DOLLARS!!
My god, I'm surprised people aren't lining up!  The main NHK announcers also found this decidedly uncooworthy.
They also gave a rupo afterwards (with some token NJ tourists praising Japanese food) at a Narita cafeteria that was also taking drastic (and I mean DRASTIC!) measures to encourage consumption of their meals, by dropping some prices a few hundred yen.  Some fried chicken had been reduced from 700 to 500 yen!  (Albeit this price was arguably overpriced in the first place; a captive-market airport economy tends to do that.)  We had some grateful NJ tourists praising the move, and closeups of one slurping noodles with a big grin.
For all the money they saved from the preferential coupons (provided they carry a few thousand dollars in cash on them during their stay), they could get one free entree from this cafeteria AND a can of Coke from a vending machine — and still have a few yen change!!  Roll up!  Roll up!
File under cluelessness.
Seacrest Out!