mytest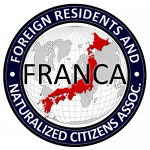 UPDATES ON TWITTER: arudoudebito
DEBITO.ORG PODCASTS now on iTunes, subscribe free
Hi Blog. As is good gaiatsu media policy, when we have somebody saying something discomfiting about Japan in overseas media, the GOJ's Gaijin Handlers will step in to present the "Official View" (would be interesting if, say, the USG did more of that in Japan's media).
Here's the Japan Consulate in New York doing just that, with Mr. Kawamura earning his keep by presenting in the NYT the preferred image of Japan overseas — not of a country with policies that do not encourage NJ to stay and become immigrants, but rather of a country that seems more welcoming.
Even though he says in the opening and infers in the closing that foreign labor (not immigration, again) is of questionable suitability for "our" economy. And let's neglect to mention the first drop in the NJ population for nearly a half-century in 2009. Besides, we have the "vaporware" policy of doubling some other numbers of temporary influx (students and foreign workers (not immigrants) — again, under policies no doubt that encourage people to give the best years of their working lives to us and then be sent "home" despite their investments). I think the concluding sentence offers the biggest lie: Japan will not "continue to find" the best policy mix, but will "continue to search for".
(BTW, the original title of the article was, "Its Workers Aging, Japan Turns Away Immigrants".  Yet within 48 hours it was was mysteriously softened to "Despite Shortage, Japan Keeps a High Wall for Foreign Labor".  Seems the gaiatsu has made the word "immigration" a taboo topic for overseas newspapers too.)
Have a beer, Mr. Kawamura. You've discharged your duty well. Arudou Debito
///////////////////////////////////////////
LETTER TO THE EDITOR
Foreign Workers in Japan: An Official View
The New York Times, published January 18, 2011
Courtesy JLO
http://nyti.ms/hFNLJk
To the Editor:
"Despite Shortage, Japan Keeps a High Wall for Foreign Labor" ("The Great Deflation" series, front page, Jan. 3) oversimplifies a complex situation and seems to present foreign labor as a cure-all for Japan's aging and declining population.
The article also appears to embrace clichés about Japanese homogeneity without pointing out recent policy changes. Japan is not walling itself off; quite the opposite is true.
In its new growth strategy, the Japanese government recognized the value of skilled foreign workers and their contributions to economic growth. Japan aims to double its skilled foreign work force by 2020 and to double the number of students from abroad that it welcomes, up to 300,000.
This policy reinforces the encouraging growth in the number of registered foreign residents. Despite a recent drop noted in your article, over the past 10 years registered foreigners in Japan have increased by almost 40 percent (from 1.6 million to 2.2 million). Japan faces tough economic and demographic challenges. But Japan will continue to find the policy mix that works best for our society and our economy.
Yasuhisa Kawamura
Director, Japan Information Center
Consulate General of Japan
New York, Jan. 14, 2011
ENDS