mytest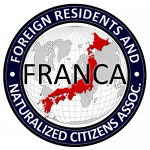 UPDATES ON TWITTER: arudoudebito
DEBITO.ORG PODCASTS now on iTunes, subscribe free
Hi Blog. Here are two articles talking about inter alia what I brought up yesterday, Japan's "soft power", and how the JET Programme is an example of that.  First one delves into the history and goals, the other making the case for and against it, with input from former students under JETs' tutelage.
We've talked extensively about JET cuts/possible abolition here already on Debito.org (archives here), and raised doubts about the efficacy of the program as a means to teach Japanese people a foreign language and "get people used to NJ" (which I agree based upon personal experience has been effective, as Anthony says below).  I guess the angle to talk about this time, what with all the international networking and alumni associations, is the efficacy of the program as a means of projecting Japan's "soft power", if not "cool", abroad.
I have already said that I am a fan of JET not for the projection of power abroad, but rather because the alternative, no JET, would not be less desirable.  Otherwise, in this discussion, I haven't any real angle to push (for a change), so let's have a discussion.  Give us some good arguments on how effective JET is abroad (discuss how effective JET is in Japan at a different blog entry here, please read comments before commenting to avoid retreads)  Arudou Debito in Sapporo
/////////////////////////////////////////
Does Japan still need 23-yr-old exchange program?
By TOMOKO A. HOSAKA
Associated Press: Jul 28, 2010, courtesy of AR
http://m.apnews.com/ap/db_15818/contentdetail.htm?contentguid=srUD04pJ
PHOTO CAPTION: In this photo taken on Wednesday, July 21, 2010, Steven Horowitz, a JET alumni who is now on the board of the JET alumni association, poses for a picture in New York. The Japan Exchange and Teaching Programme, known as JET, is now among the biggest international exchange programs in the world. More than 52,000 people, mostly American, have taken part and supporters proclaim it as Japan's most successful soft power initiative since World War II. (AP Photo/Seth Wenig)
TOKYO (AP) – Every year for the past two decades, legions of young Americans have descended upon Japan to teach English. This government-sponsored charm offensive was launched to counter anti-Japan sentiment in the United States and has since grown into one of the country's most successful displays of soft power.
But faced with stagnant growth and a massive public debt, lawmakers are aggressively looking for ways to rein in spending. One of their targets is the Japan Exchange and Teaching Program, or JET.
Versions of the JET program can be found in other countries. French Embassies around the world help to recruit young people to teach their languages in France for a year. The U.S. Fulbright program, run by the State Department, works in both directions: American graduates are sent abroad to study and teach, and foreigners are brought to the U.S. to do the same.
But JET's origins and historical context make it unique. Having long pursued policies of isolation – with short bursts of imperialism – Japan was looking for a new way to engage with the world in 1987, at the height of its economic rise.
The country's newfound wealth was viewed as a threat in the U.S., where anti-Japanese sentiment ran high. At the same time, Tokyo wanted to match its economic power with political clout. JET emerged as one high-profile solution to ease trade friction, teach foreigners about Japan and open the country to the world.
Under the program, young people from English-speaking countries – mostly Americans – work in schools and communities to teach their language and foster cultural exchange. They receive an after-tax salary of about 3.6 million yen ($41,400), roundtrip airfare to Japan and help with living arrangements. More than 90 percent of this year's incoming class of 4,334 will work as assistant language teachers.
Word about possible cuts began filtering through JET alumni networks several weeks ago, and members of the New York group mobilized quickly, starting an online signature campaign. Former JET – as the alums are known – Steven Horowitz, now living in Brooklyn, is devoting his website jetwit.com to rally support. Another alumnus in Florida launched a Facebook page.
Their message to Tokyo is that Japan's return on investment in the program is priceless. Japan, they say, cannot afford to lose this key link to the world, especially as its global relevance wanes in the shadow of China. And the program, they argue, not only teaches the world about Japan but also teaches Japan about the world.
"There has been a benefit from the program that you can't measure," said New York native Anthony Bianchi. "People used to freak out when they'd see a foreigner. Just the fact that that doesn't happen anymore is a big benefit."
Bianchi's experience shows the power of the program to create cultural ties. After working as a teacher for two years in Aichi prefecture in central Japan, he landed a job with the mayor in Inuyama City, an old castle town in the area. He eventually adopted Japanese citizenship and ran for city council. Now in his second term, the 51-year-old is working to convince Diet members that JET is worth saving.
Bianchi is not alone. Of the more than 52,000 people who have taken part, many are moving into leadership at companies, government offices and non-profits that make decisions affecting Japan, said David McConnell, an anthropology professor at The College of Wooster in Ohio and author of a book about JET.
"The JET Program is, simply put, very smart foreign policy," he said.
James Gannon, executive director for the nonprofit Japan Center for International Exchange in New York, describes JET as a pillar of the U.S.-Japan relationship and the "best public diplomacy program that any country has run" in recent decades.
But many taxpayers are asking if the program is worth the price – and criticism of JET has become part of a larger political showdown about how much government Japan can afford.
The organization that oversees JET, the Council of Local Authorities for International Relations, has drawn the ire of lawmakers as a destination where senior bureaucrats retire to plush jobs. The practice, known as "amakudari," or "descent from heaven," is viewed as a source of corruption and waste.
Motoyuki Odachi, head of a budget review panel that examined JET, said taxpayers are getting ripped off.
"There's a problem with the organization itself," said Odachi, an upper house member from central Japan. "This program has continued in order to maintain 'amakudari.'"
JET's administrators tried to defend themselves at a public hearing in late May and submitted planned reforms, including a 15 percent slimmer budget this fiscal year. The council has allocated about $10 million for the program, which includes airfare, orientation costs and counseling services. Teachers' salaries are paid by the towns and cities that hire them. Several government ministries cover other JET-related costs, such as overseas recruitment.
Odachi expects his panel's recommendations will be adopted as formal policy later this year.
"Whether that means zero (money) or half, we don't know yet," he said. "But our opinion has been issued, so (JET) will probably shrink."
Kumiko Torikai, dean of Rikkyo University's Graduate School of Intercultural Communication and the author of several books on English education in Japan, says JET has outgrown its usefulness and needs an overhaul.
"Bringing thousands of JETs to Japan is not a good investment for the country's taxpayers in this day and age of an already globalized world," Torikai said.
ENDS
/////////////////////////////////////
Japan Times Tuesday, July 27, 2010
THE ZEIT GIST
Ex-students don't want JET grounded
Eric Johnston and Kanako Nakamura ask 'children of JET' whether the program deserves to be on the chopping block
By Eric Johnston and Kanako Nakamura (excerpt)
The case for JET
The JET program is one of — perhaps the only — project carried out by the Japanese government during the bubble-economy years of the late 1980s and early 1990s to promote kokusaika (internationalization) that actually had some success.
Since its inception, over 50,000 young foreigners have come to Japan to teach English and share their cultures with young Japanese who would otherwise not likely have been able to speak directly with a foreign teacher. These young people have also benefited local education by improving the abilities of Japanese teachers of English.
Upon return to their home countries, they act as unofficial goodwill ambassadors for Japan, and their experience as a JET is looked upon favorably by employers such as the U.S. State Department. For a relatively small investment on the part of taxpayers, the JET program has created huge returns, welcoming generations of non-Japanese who have, and will, go on to promote better relations between Japan and their own country and expose Japanese to the outside world in unprecedented ways.
The case against
The JET program is a relic of the go-go days of the bubble-economy years, when any half-baked idea could get government funding if it had the word "kokusaika" attached to it. Since its inception, over 50,000 young foreigners with few, if any, teaching credentials have come to Japan and partied for a year at taxpayer expense. They have usually enjoyed their stay, but their effectiveness in improving the English language ability of their students was never quantitatively measured and, given Japanese students' performances on international English tests, is questionable at best.
Because most JET teachers are from North America, Europe or Australasia, the program promotes an "Anglo-Saxon" view of the world that disregards the importance of other cultures.
A JET's presence in the classroom with Japanese teachers can actually be disruptive to classroom discipline, while the need for their colleagues to assist them with personal matters due to the language barrier places extra burdens on school staff.
Upon return to their countries, they land the same jobs others who were in Japan get, and it's naive to think most JETs will be goodwill ambassadors.
At a time of fiscal austerity and when thousands of native English-speakers — many with teaching qualifications, Japanese language ability and a much better understanding of Japanese culture — can be hired as contract workers from private firms depending on local needs and at lower cost, why should Japanese taxpayers continue to subsidize the JET program?
The ex-students' view…
Rest at http://search.japantimes.co.jp/cgi-bin/fl20100727zg.html